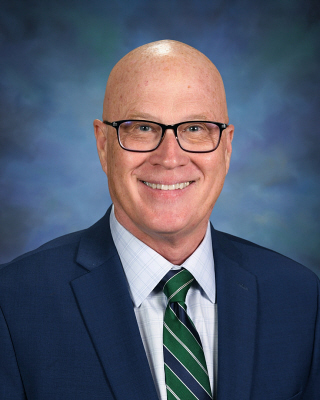 Dr. Gary Arnold has been the head of school at Little Rock Christian for 16 years, but he is so much more. He is a husband to Karen, a father to three daughters and a grandpa to nine grandchildren. One of his favorite things to do with his grandchildren is to bring them donuts from Dunkin. Something most people don't know about Dr. Arnold is that he can cook burgers and eggs to perfection, and when his wife is gone, he makes a tasty macaroni and cheese. He describes himself as enthusiastic, flexible and joyful. 
Dr. Arnold grew up in Ann Arbor, Michigan and attended Wheaton College, which is near Chicago. He started off majoring in chemistry and biology but ended up switching majors when he decided to go into Christian education. Before coming to work at Little Rock Christian, Dr. Arnold was ready to leave Christian education for a while. He said he was tired and frustrated, so he started lobbying for private schools in the state of Wisconsin. He ended up falling in love with Little Rock Christian when the Lord called him to come.
 In the next five to ten years, his goal is to strengthen Christian schools worldwide. To do this he has been helping other schools in other parts of the country. Over the course of the past years, the Little Rock Christian campus has changed in many ways. One of the things that Dr. Arnold said has stayed the same is everybody that's still here from when he started. Dr. Arnold said that his favorite thing about Little Rock Christian is his leadership team. "I'm stronger when I am surrounded by people who are smarter and stronger than me," he said. He loves that his team is front and center because they are his rock. 
While there are many organizations that he's been a part of over the years, he is still involved in many. He has been president and board member for a national lobbying group in Washington, D.C. He is also involved with the Council on Educational Standards and Accountability, the Christian Education Charitable Trust, and Next Ed, a company which is trying to help schools around the country get stronger. 
The life verse that he said he lives by is Galatians 2:20: "For I have been crucified with Christ, I no longer live, but Christ lives in me. The life I now live in the body, I love by faith in the son of God who loved me and gave himself for me."
This story was originally published in Volume 12, Issue 9 of The Warrior Times.