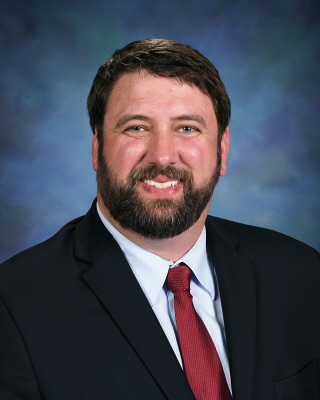 Dr. Tony Davis, current co-chair of the biblical worldview department of upper school, will become the new head of school when Dr. Smith assumes the role of head of school in July. Dr. Davis has worked at LRCA for two years and teaches BWV classes like Fundamentals of Faith, Old Testament, and Ethics. He received his bachelor's degree from Lyon College, his master's in theological studies from Vanderbilt, and a doctorate from UA Little Rock.
Outside of school, Dr. Davis is a priest, a husband and a dad. He spends his free time serving and preaching at his church, including leading a church addiction recovery group. He also enjoys hanging out with his family and visiting their farm. Spending almost every weekend taking his kids to the farm, Dr. Davis loves to hunt, fish, and be outdoors. He is married to Hillary and has 7-year-old twins, a kindergartner, and a newborn. "I'm excited to be able to shape the education and culture for my own kids," Dr. Davis said. His favorite part of working in education is building relationships with students. "I enjoy the mentorship of being a teacher and being able to pour into students and, in return, they pour into me," he said.
Dr. Davis said that his goal is to continue to elevate discipleship and academic excellence with an emphasis on Christian character formation and integrity. He said his desire is to maintain the great work his predecessors are leaving, while continuing to grow in fine tuning student character and morality to prepare them to leave the school. Most of all, he wants students to know that he is a loving father and husband and that he cares for and loves the entire student body.
When reaching for his Bible, Dr. Davis said he goes to the book of John a lot. He recommends that students read it for its "beautifully written Christology and good flow and narrative." His favorite restaurant is Brave New Restaurant and would love to someday take his family to Europe to visit the historic cathedrals. Dr. Davis is a fan of the St. Louis Cardinals and is an avid coffee drinker. For his own wardrobe, Dr. Davis prefers a solid color tie and said he most frequently reaches for shades of blue. However, he occasionally pulls out a red "power" tie. Dr. Davis loves creme brulee and joking with students in the classroom.
This story was originally published in Volume 12, Issue 10 of The Warrior Times.